At Incyte, our passion for making a difference extends beyond the walls of our offices—to serve and support patients, as well as the local communities where we live and work.
Incyte Involved centers on charitable giving, matching gifts and community service, enabling employees to donate time and resources to the issues and organizations they are passionate about.
We've seen meaningful engagement through Incyte Involved to date, and we look forward to having an increasingly powerful impact in 2023.
See some of our Incyte Involved 2022 highlights below. Learn more about Incyte Involved.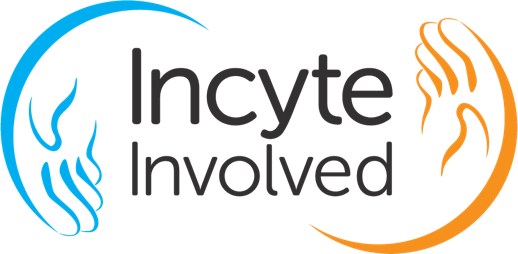 Charitable
Giving
Donated nearly
$900,000
in support of healthcare, cultural, educational and environmental initiatives
pay for basic living expenses (e.g., rent, groceries) through the Incyte Cancer Care Assistance Fund for Delaware, administered by Cancer Support Community Delaware*
Community
Service
250 Incyte employees
volunteered
1,620+ hours
in local communities
around the globe
Matching
Gifts
Nearly
600
employees'
donations matched
totaling >$350,000
More than
donated to by
Incyte employees