We forge lasting relationships with local and international communities knowing that if we can change one life, we can change the world. Incyte Involved includes three initiatives focused on philanthropy as well as employee and community engagement. These include the Incyte Charitable Giving Foundation, the Community Service Program and the Matching Gifts Program.
The Incyte Charitable Giving Foundation is dedicated to supporting charitable organizations serving the needs of local Delaware communities focused on two areas—Oncology Patient Support and Resources and Community Partnerships.
In 2018, the Incyte Charitable Giving Foundation launched the Incyte Cancer Care Assistance Fund for Delaware (ICCAFD) in collaboration with Cancer Support Community Delaware. The ICCAFD provides emergency financial assistance for cancer patients, their caregivers and family members living in Delaware and covers bills such as rent, mortgage, car insurance and the cost of groceries. Cancer Support Community Delaware independently processes applications and determines financial need for applicants who are facing financial hardships due to cancer. We entered into another five-year commitment and doubled the amount we were contributing beginning in 2023.
Our Community Service Program provides our colleagues with paid time off to volunteer in their communities. We believe that by providing this benefit, we are supporting our colleagues as they support causes that are personal to them. We also support our colleagues' charitable interests through our Matching Gifts Program, which matches 100% of donations up to a predetermined cap each year for our U.S. and European-based employees.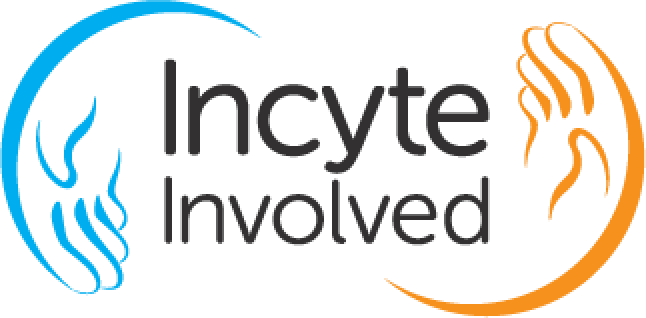 Incyte Involved is a deeply rooted community initiative comprised of the Incyte Charitable Giving Foundation, the Community Service Program and the Matching Gifts Program.
INDEPENDENT MEDICAL EDUCATION GRANTS
The advancement of scientific innovation would not be possible without the advancement of medical education. Through appropriate funding of educational grants to institutions, Incyte will support medically sound and compliant continuing education aimed at enhancing the knowledge of healthcare professionals and improving patient care.
HEALTHCARE-RELATED CONTRIBUTIONS AND SPONSORSHIPS GIVING
Incyte supports organizations that share our commitment to ensuring students, healthcare providers, patients, caregivers and patient advocates have access to healthcare information. We are accepting charitable contribution and sponsorship requests for consideration. Eligible requests must be designed to focus on healthcare and align with all internal and external compliance and regulatory guidelines.
We are proud to be an exemplary corporate citizen contributing to the communities we serve. From providing access to medicines for qualifying patients with a financial need to ensuring a healthy and nurturing workplace for our team, we conduct operations in an ethically sound and environmentally responsible manner.