Behind each one of our products is a patient in need. The work we do goes beyond our medicines; it advances health for people of all backgrounds and communities around the world.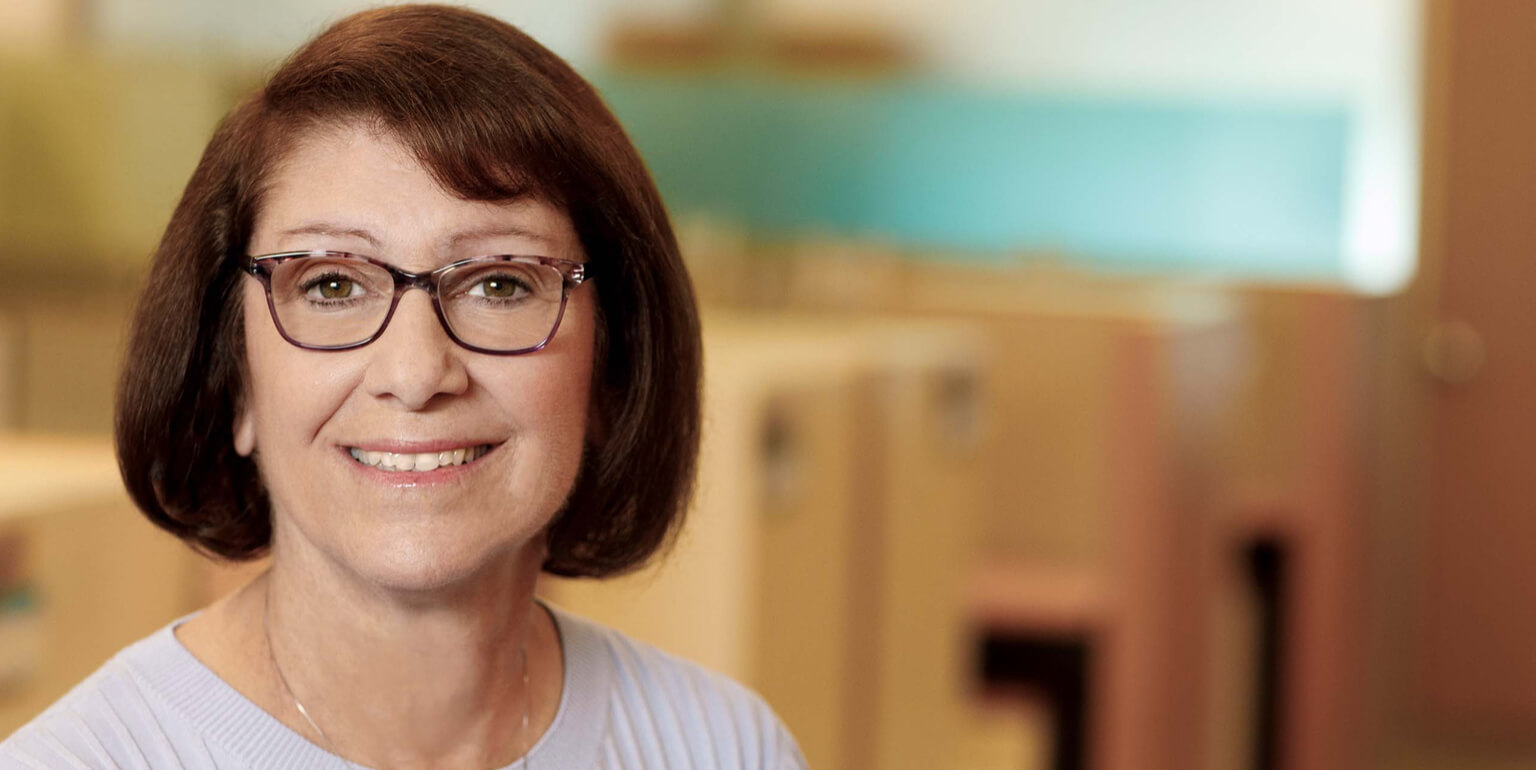 We try to set the highest standard with our science, while still moving forward quickly to discover new treatment options for patients. What we say quite often in the lab is, 'Individual success equals team success, equals Incyte success, and ultimately equals patient success.'
Maryanne Covington, Director, Pharmacology
At Incyte, we believe tomorrow's scientific innovations start today—with patients.
The patient volunteers who participate in clinical trials help make new treatments possible. At Incyte, we are committed to helping eligible patients gain access to appropriate treatments.
Conducting clinical trials under the review of regulatory authorities around the world helps us obtain the necessary approvals to provide patients with increased access to medicines as prescribed by qualified healthcare professionals. We understand that some patients may be eligible to participate in an Incyte-sponsored clinical trial involving an investigational product but may not have the resources to participate. We are steadfast in providing them with the information and resources they need to support their treatment journeys, consistent with applicable laws, regulations and ethical guidelines.
We recognize that some patients with serious or immediately life-threatening diseases may not be eligible for participation in a clinical trial or may not have other options. Subject to appropriate internal review and approval based on the conditions in Incyte's Policy on Compassionate Use, Incyte may choose to provide individual patients with access to an unapproved or investigational product outside of a clinical trial setting through expanded access, including through the use of single-patient investigational new drug (SPIND) applications or on a named-patient basis.
For more information, please read our Policy on Compassionate Use.
Access to Approved Medicines
Incyte sees it as our responsibility to ensure eligible patients in the U.S. are able to access and afford our approved medicines. We are supportive of legislation that would reduce out-of-pocket costs and remove barriers to access to innovative medicines.
Incyte supports patient access with programs like IncyteCARES. IncyteCARES supports eligible privately or uninsured patients in the U.S. before and during applicable treatment with Jakafi® (ruxolitinib), Pemazyre® (pemigatinib)1 and Opzelura® (ruxolitinib) cream through ongoing support and education with dedicated nurses and patient access coordinators.
IncyteCARES' services include copay/coinsurance assistance for eligible commercially insured patients, free product assistance for eligible patients who are uninsured or who experience temporary coverage delays, reimbursement support through benefit verifications and clinical education support to patients regarding their conditions and the medicines they are receiving. For more information, please visit IncyteCARES.com.
Another initiative, My Mission Support, allows Incyte and MorphoSys to support patients throughout their treatment journeys before and during treatment with Monjuvi® (tafasitamab-cxix).2 This patient support program offers financial assistance, ongoing education and other resources to eligible patients who are prescribed Monjuvi in the U.S. To learn more, please visit MyMissionSupport.com.
Patient Education and Awareness
With Incyte, patients have resources and support throughout their treatment journey. This is particularly important for patients with rare diseases who often have difficulty finding educational resources or support from other patients with the same disease. We are here to provide valuable information about our products, Jakafi® (ruxolitinib), Iclusig® (ponatinib), Pemazyre® (pemigatinib)1 and Monjuvi® (tafasitamab-cxix)2, which are approved to treat rare diseases.
Myeloproliferative Neoplasms (MPNs)
For patients living with MPNs, Incyte created Voices of MPN, a U.S. website and community focused on connecting MPN patients to information, educational programs and community activities, as well as providing a forum to share stories and promote disease awareness. To learn more about our efforts, please visit VoicesofMPN.com.
Each year, in partnership with CURE Media Group, publishers of CURE® magazine, Incyte sponsors the MPN Heroes® Recognition Program, which honors and celebrates individuals and organizations for their contributions in caregiving, community leadership or scientific advances in the MPN community. To learn more about this recognition program, please visit VoicesofMPN.com/mpn-heroes.
Graft-Versus-Host Disease (GVHD)
Incyte launched the Incyte Ingenuity Award in 2020, which aims to support innovative ideas to improve the care and treatment of the GVHD community in the U.S. By providing funding for an activity, idea or initiative, it is our hope that we can address a need for people impacted by GVHD and foster collaboration within the GVHD community. For more information, please visit IncyteIngenuityAwards.com.
Another initiative, GVHDnow, is an educational resource for patients and caregivers in the U.S. GVHDnow offers information and resources for GVHD patients and caregivers at various stages of their journey. For more information, please visit GVHDnow.com.
Chronic Myeloid Leukemia (CML)
CML Life is an educational resource for patients in Europe suffering from CML, regardless of their treatment or stage of disease. CML Life serves to help patients, caregivers and healthcare professionals better understand and manage CML with the goal of facilitating treatment engagement and adherence. This program has been co-created and co-developed with both patients and healthcare professionals.
TestMyCholangio is a website dedicated to educating patients with cholangiocarcinoma about molecular profiling and the role it may play in informing management decisions. Here, patients in the U.S. can find information and resources to help encourage productive discussions with their healthcare professionals. For more information, please visit TestMyCholangio.com.
Start from Scratch is a resource from Incyte for people living with atopic dermatitis (AD). It was informed by people with AD, as well as advocates, and aims to provide digestible information about the science behind AD and empower them to have more productive conversations with their dermatologists. For more information, please visit StartfromScratch.com.
We hold our discovery process and clinical research to the highest scientific and ethical standards and adherence to good clinical practice standards set by the FDA, EMA, PMDA and other international regulatory bodies.
Incyte is committed to acting ethically and responsibly, as well as applying high standards of care when conducting preclinical research both internally and at third-party institutions. Incyte's facility is AAALAC International accredited, and wherever possible, we work with third parties accredited by AAALAC International. We focus on data transparency by presenting study data, regardless of outcome, at appropriate medical meetings and in peer-reviewed journals. To learn more, please view our Clinical Trial Transparency, Data Sharing and Disclosure Practices.
Our Focus on New Therapies
Building on our deep knowledge and understanding of cellular oncogenic pathways and immune system function, we are advancing research across Oncology and Inflammation & Autoimmunity.
In oncology, we leverage three discovery platforms: small molecule, monoclonal antibody and bispecific antibody capabilities. We believe that this multifaceted approach positions us well to evaluate development candidates across a diverse spectrum of therapeutic targets.
The goal of Incyte's Inflammation & Autoimmunity development group is to identify, target and modulate immunological pathways driving uncontrolled inflammation and the destruction of the body's own cells and tissues. In doing so, we hope to restore normal immune function to bring the body closer to homeostasis. Our Inflammation & Autoimmunity team utilizes their broad immunological understanding of disease and cross-functional knowledge of our programs to identify innovative approaches to treating inflammatory and autoimmune diseases.
We are pushing the bounds of what is possible in treating serious diseases, but we cannot do this alone. Forging strategic partnerships with companies, universities and research institutions helps us realize the full potential of our science. We are committed to collaborating to share knowledge, resources and ideas that may best benefit patients.
lncyte also provides our investigational products and/or financial support for independent research by third parties in therapeutic areas of interest. We ensure that requests for Investigator-Initiated Research (IIRs) are submitted, reviewed and, if approved, conducted and funded in a standardized and consistent manner, in compliance with all applicable legal and ethical standards and obligations.
Powered by knowledge and fueled by passion, our scientific excellence has resulted in FDA-approved products, including treatments for diseases with no prior approved therapies.
Jakafi® (ruxolitinib) was the first FDA-approved JAK inhibitor for any indication and the first FDA-approved product in all three of its current indications.
Pemazyre® (pemigatinib) was also approved1 by the FDA for an indication that previously had no approved therapies for patients.
Opzelura® (ruxolitinib) cream, a novel cream formulation of Incyte's selective JAK1/JAK2 inhibitor ruxolitinib, is the first and only FDA-approved topical JAK inhibitor approved for certain patients with mild to moderate atopic dermatitis (AD).
We acquired the rights to Iclusig® (ponatinib) through an exclusive license from Takeda Pharmaceuticals International in the European Union and 29 other countries, including Switzerland, Norway, Turkey, Israel and Russia. In January 2020, MorphoSys and Incyte entered into a collaboration and licensing agreement to further develop and commercialize tafasitamab globally. Monjuvi® (tafasitamab-cxix)2 is being co-commercialized by Incyte and MorphoSys in the U.S., and Incyte has exclusive commercialization rights outside the U.S.
Beyond our in-house development portfolio, Incyte scientists discovered two additional approved medicines: Olumiant® (baricitinib), developed and commercialized by our partner Eli Lilly, and Tabrecta® (capmatinib), developed and commercialized by our partner Novartis.
Because patients are our top priority, a significant portion of our revenue is reinvested into R&D in our effort to Solve On.
Nothing is more important than the health, well-being and safety of patients.
Clinical trials are essential to the safe use of our products, and they're conducted with patient safety as our primary focus. The safety and efficacy of investigational medicines are reviewed by the FDA, EMA, PMDA and other international regulatory bodies. Incyte's studies adhere to the applicable laws and regulations in all territories in which we operate, while always upholding the highest ethical standards.
We carefully consider both the potential benefits and risks of each trial before deciding to proceed, and enact strict protocols to obtain informed consent from participating patients.
Incyte is committed to the supervision of all ongoing trials through an institutional review board, an ethics committee and/or a research-ethics board in order to protect the safety of trial participants.
As a matter of transparency, Incyte announces applicable trial results, positive or negative, on clinicaltrials.gov in the U.S. and/or other applicable registries, at appropriate medical meetings, and in peer-reviewed journals in a timely manner. Publication of these data is scientifically responsible and may serve to benefit patients as well as the entire scientific community as we collectively seek to transform the treatment of cancer and other diseases. We aim to publish data within 18 months of the last patient leaving the study. Please view our Clinical Trial Transparency, Data Sharing and Disclosure Practices.
Product Serialization and Anti-Counterfeiting
Anti-counterfeiting measures and product serialization are in place to increase patient safety as well as to address regulatory requirements, thus ensuring Incyte's compliance and patient safety and security.
Two kinds of anti-counterfeiting features, overt and covert, are currently in place for Incyte medicines. Overt features are for patients, healthcare providers and regulatory authorities to authenticate the product and, as such, make medicines difficult to reproduce. To further avoid fake or counterfeit products, overt features are combined with tamper-evident packaging. Covert features are intended for a restricted number of Incyte's personnel to quickly authenticate products in the event of suspected counterfeiting.
Suspected counterfeit issues or claims related to our products are handled internally via Incyte's Material Review Boards (MRB) and the Falsified Drug Product Committee (FDPC). The MRB is a Quality Assurance (QA) forum. In the event of a suspected counterfeit issue, the QA chair communicates with his/her QA business partner counterpart to determine the potential impact on product safety and the need for any related regulatory or other action. The FDPC is a cross-functional team, chaired by the Head of Supply Chain. The FDPC team includes representation from Supply Chain, QA, Communications, Legal and Regulatory Affairs. The FDPC convenes meetings internally and externally to share information and align on necessary actions, including communication to external stakeholders. External communications have historically been disseminated by alerts from the WHO via its website and communications portal with health authorities, with Company Statements, including relevant information and contact details, being made available via the Incyte corporate website.
Related to serialization, a single identifier is printed on each product pack along with a 2D barcode with encoded information and an anti-tampering device. At delivery to the patient and at any dispensing point, the pack can then be scanned to confirm its authenticity.
Pemazyre received accelerated approval from the FDA in April 2020 and continued approval may be contingent on verification and description of clinical benefit in a confirmatory trial(s).
Monjuvi is approved by the FDA under accelerated approval based on overall response rate. Continued approval for this indication may be contingent upon verification and description of clinical benefit in a confirmatory trial(s).